Our OneSupport Plan is advanced software technology that gives you the power to execute fast computer repairs, device maintenance, updates, and more. Get the help you need at your fingertips with our OneSupport Desktop Tool and our 100% U.S. based on-demand Technology Advisors. Unlimited Technical Support
OneSupport is a 100% U.S.-based service provider for technical support solutions.  We identify and fix issues with computers, networks, smartphone, tablets, software, and much more. Using state-of-the-art tools and remote tech support technology, we can diagnose and repair your technical issues. There is a technical support fee, and we offer several options. Our service covers up to five computers or devices.
We provide technical support for PC's – support for 1 computer and up to 4 additional devices regardless of manufacturer, make, or model for one low price.  Computers, networks, laptops, smartphones, tablets, and game consoles. Our support also covers all of your software that you own now or add in the future. Each additional computer added to your support plan has a $2 license fee up to a maximum of 5 total devices supported.
Why You Need Technical Support
Computer hardware and software problems cost you time, money, and aggravation. You need OneSupport technical support so that whenever you have a problem or need, you call us toll-free, and our expert technicians handle it. We identify and fix issues with computers, networks, laptops, smartphones, tablets, game consoles, pop-ups, viruses, software, and virtually any other technology issue.
You don't have to disconnect your equipment and take it into a store or office. We diagnose and repair your problems by connecting to your devices and utilizing our state of the art tools. You don't even have to stick around while we do the work. No hassle technical support for pc.
We provide unlimited support for all of your accessories as well.  (They do not count against the five device limit.)  This includes printers, scanners, fax machines.
Technical services available to you 24/7. Get the technical support for pc services you need today.
$69.99 one time set-up fee for monthly service plans
$2 for each additional computer
Unlimited Technical Support
Chat, Phone, and Remote Desktop Support
100% U.S.-Based Technical Support
Open 24/7 365-Days a Year
Support for Up to Five (5) Devices
Computer Repair
Fix Internet Connection Problems
Repair System Crashes and Errors
Laptop Battery and Power Issues
Display and Sound Problems
Technical Support for PC
Resolve Performance Issues
Provide a Full Computer Tune-Up
Speed Up Your Computer
Install Computer Updates
Remove Unused Software
OneSupport offers several options for personal technical support plans that work to protect you with computer hardware and software technical support when you need it. Choose a tech support plan below to start experiencing unlimited technical support and our advanced protection and security services. Call us toll-free at 844-818-3415 or chat with a US-based tech.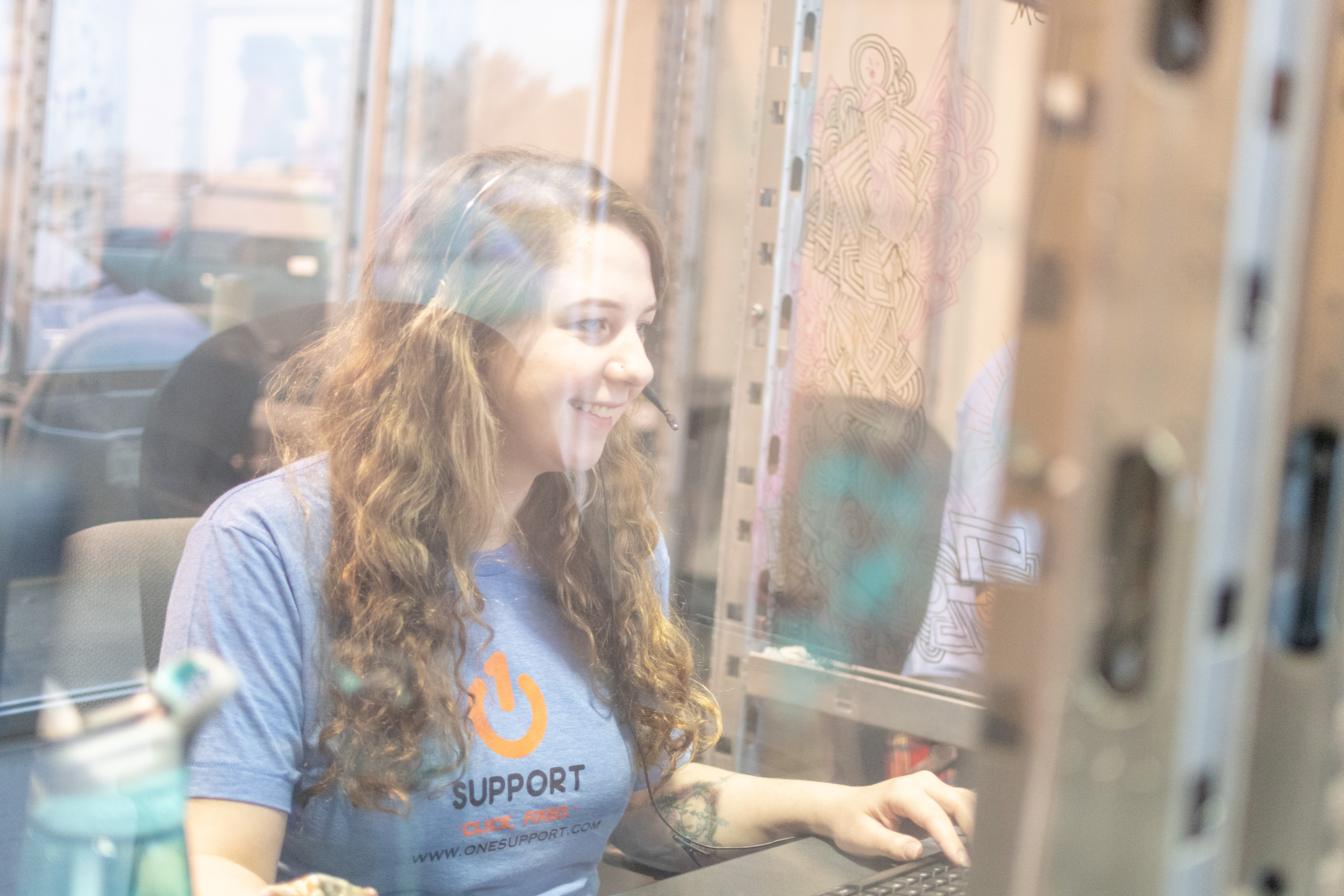 How Does IT Work?
OneSupport is a service provider for tech support solutions. We identify and fix issues with computers, networks, smartphones, tablets, and much more. Using state-of-the-art tools and remote technical support technology, we can diagnose and repair your technology problems.
Your Title Goes Here
Can You fix my computer?
Our technical support team will fix your problem or your money back. There is absolutely no risk. Our techies are professionals, and they help people like you 24/7/365. The phone call and initial tech support consultation are free. So, call us now at 844-818-3415.
How long does a typical repair take?
The typical repair takes 15-minutes or less although a remote repair session can last more than an hour based on the complexity. The great part about this process is once our tech support technicians are connected, you don't have to stick around while we fix your problem unless you want to.
Where do I take my computer?
You don't! We perform most technical support work from wherever you are located with our remote tech support software and management tools. We can quickly assist you with whatever trouble you are having.
Can I trust you?
Yes! OneSupport has been in business for over 25 years. We have an A+ rating with the Better Business Bureau, and 12,000 customers have given us 4.9 of 5 stars. We are tech support professionals, and we are 100% U.S.-based. We have a Money Back Guarantee. You have found a reputable, well-established tech support company.
What do I have to do to get started?
Call 844-818-3415 or CHAT with us now! We will evaluate your problems and needs and help you choose the tech support plan that is right for you. Get tech support for as little as $14.99 per month. It's like having a computer guru in the next room ready to work 24/7.
350 Barnes Drive
San Marcos, TX 78666
(800) 580-3355