 YOUR JOURNEY IN TECH STARTS HERE
The leading provider of technical support
and world-class customer experience
With both work-at-home and in-house positions available, we offer unique opportunities in both the customer service and technical support industries. Benefits, paid time off, and upward mobility are just a few of the rewards for working at OneSupport. OneSupport offers competitive wages and selective benefits designed to allow you to choose options that meet your individual needs. We have full-time and part-time positions available. Our In-Office program offers two locations in either San Marcos, TX or Corpus Christi, TX.
Our Work-at-Home program is available for qualified residents of Alabama, Arkansas, Florida, Idaho, Kansas, Kentucky, Mississippi, Missouri, Montana, Nevada, New Mexico (except Santa Fe County), North Carolina, Ohio, South Carolina, Tennessee, Texas, Utah, Virginia, and Wisconsin.
Computer Requirements:
For all Work-at-Home opportunities, we have the following requirements. *Please note that we do not provide hardware/equipment and we are unable to accept Chromebooks.*
Operating System (OS):  Windows 10 or higher – (must be native & activated) OR MacOS (Latest version required & the Mac itself must be no more than 5 years old)
Processor: 2 Core processor needs a 2.0 GHz minimum clock speed OR 4 Core processor needs a 1.6 GHz minimum clock speed
RAM: 3GB or higher
Monitor Size: At least one 15″ or larger monitor (more than one will make things easier)
USB headset (Hard-wired, not wireless, recommend ensuring Skype-compatible)
Webcam specifically for your intended work computer (Recommend ensuring Skype-compatible)
A quiet, distraction-free environment for the duration of your shift minus any breaks
Internet Requirements:

You must have DSL, Cable, or Fiber internet only – we are unable to accept fixed wireless, hotspot, or satellite internet.
Internet speeds of at least 2mbps download, 1mbps upload, with ideally less than 100ms ping and jitter to ensure a reliable internet connection (there is an internet speed test linked in the application)
The ability to have a direct, Ethernet connection to ensure a reliable internet connection
Skills & Other Requirements:

Typing speed of 40WPM with at least 80% accuracy (there is a typing test linked in the application)
Sitting or standing at your work station for the duration of your shift minus any breaks
Multitasking capabilities with the ability to react quickly in a fast-paced environment
Ability to follow instructions, research and utilize resources, and adapt to changes in procedures
Once you submit your application below, our Recruiting team will contact you directly via phone call to set up an interview. Be on the lookout for a 512 area code and an @onesupport.com email address if we miss you!
We do not hire, interview, or collect any personal (financial or password) information via social media messenger or text message. While we do hold interviews via hangout or video conference, we'll never ask you for your banking information during an interview.
UNPARALLELED TALENT,
TAPPED AT THE SOURCE
KNOW YOUR RIGHTS AT ONESUPPORT
Our goal at OneSupport is to provide an environment that follows both federal and state guidelines.  These guidelines consist of the following:  Not be harassed or discriminated against (treated less favorably) because of race, color, religion, sex (including pregnancy, sexual orientation, or gender identity), national origin, disability, age (40 or older) or genetic information (including family medical history). Receive equal pay for equal work. Receive reasonable accommodations (changes to the way things are normally done at work) that are needed because of their medical condition or religious beliefs, if required by law.
Expect that any medical information or genetic information that they share with their employer will be kept confidential. Report discrimination, participate in a discrimination investigation or lawsuit, or oppose discrimination (for example, threaten to file a discrimination complaint), without being retaliated against (punished) for doing so. These rights are based on federal employment discrimination laws.
Other federal, state, or local laws may also apply to your business. Federal, state, and local government websites may have additional information about these laws. Please visit:  https://www.eeoc.gov/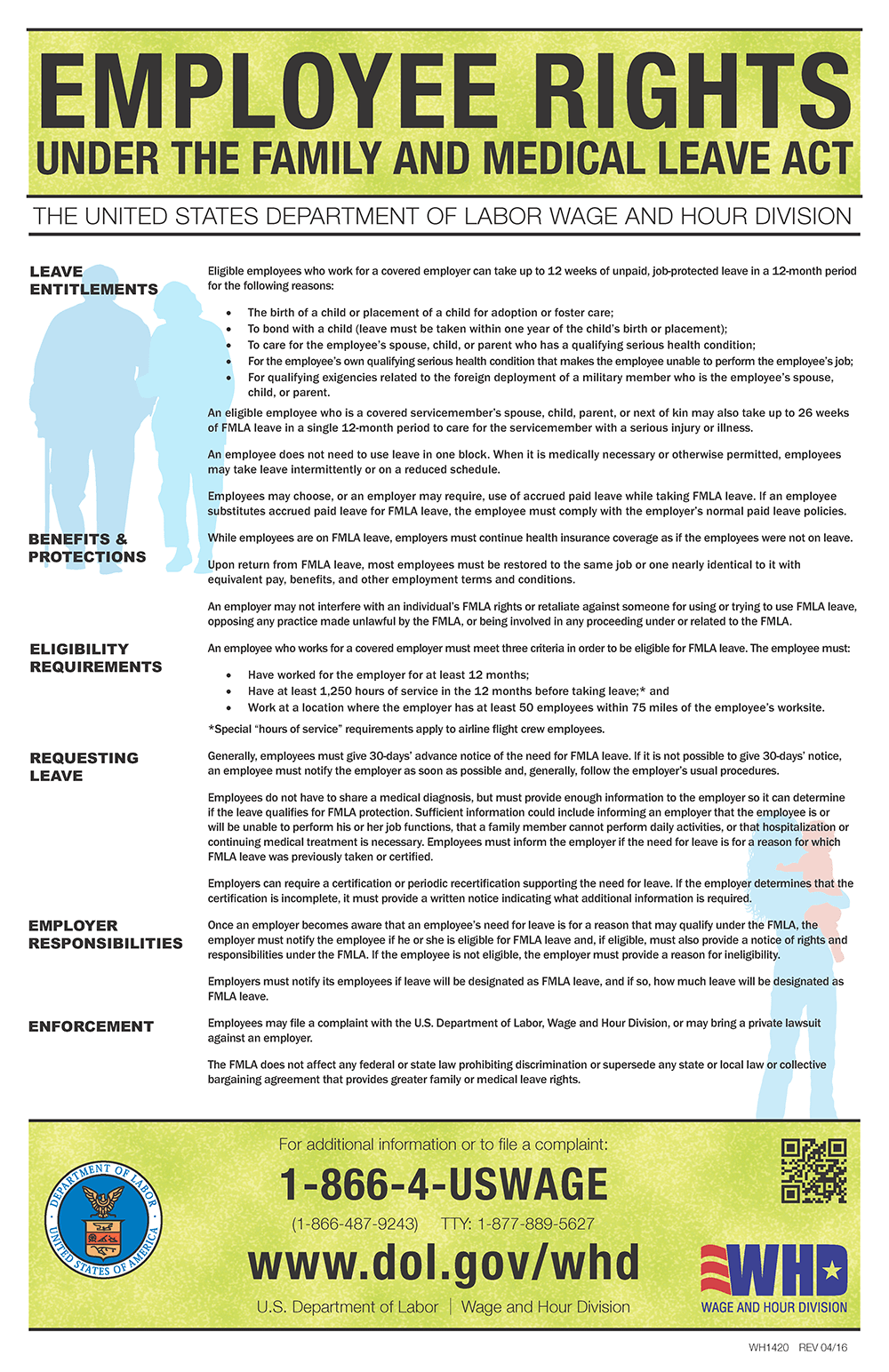 FMLA
Employee Rights Under the Family and Medical Leave Act according to the United States Department of Labor Wage and Hour Division:
Leave Entitlements
Benefits & Protection
Eligibility Requirements
Requesting Leave
Employer Responsibilities
Enforcement

For additional information, the OneSupport Human Resource Team is available to partner with their employees at any time.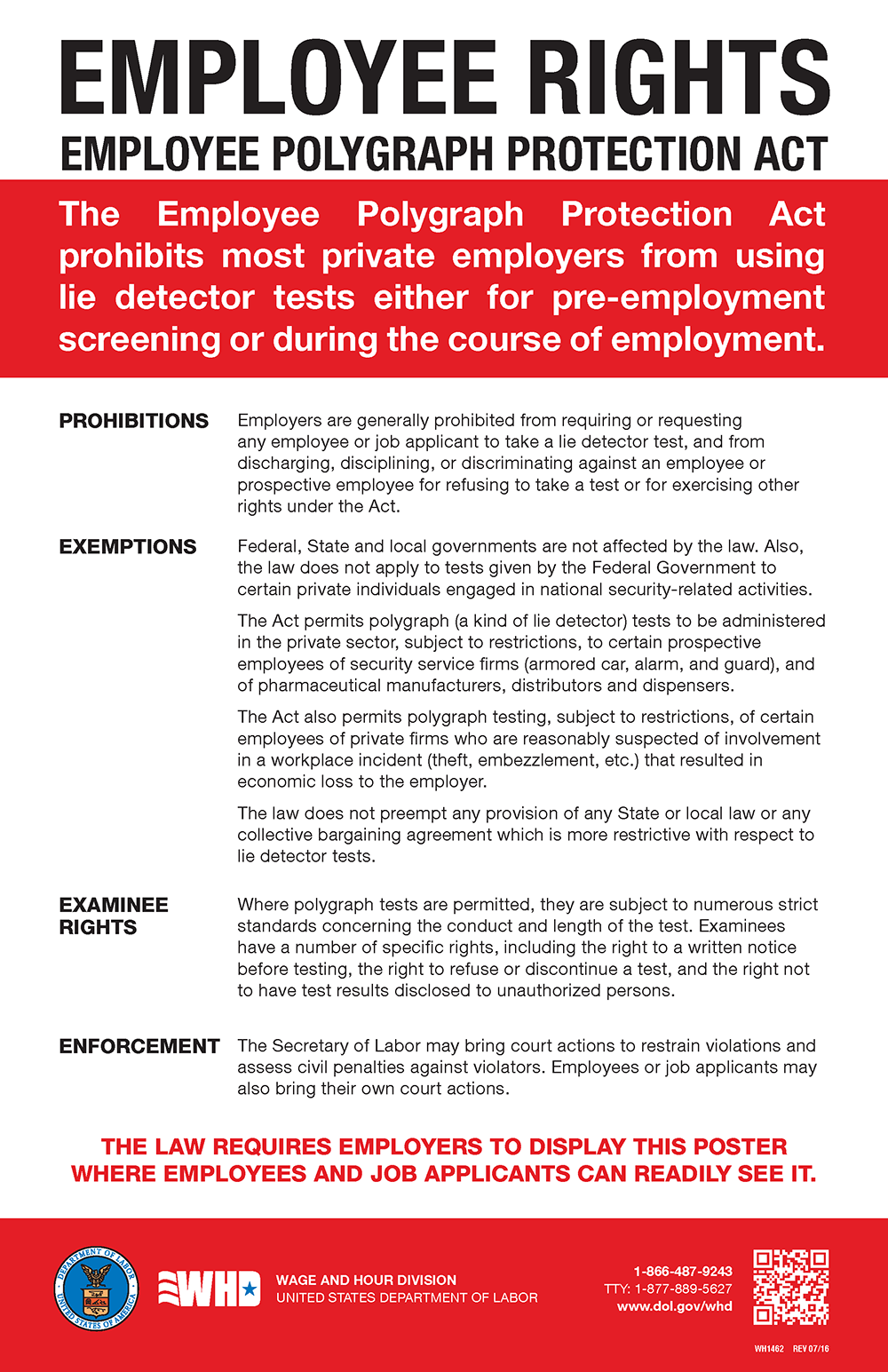 EPPA
Employee Rights & OneSupport under the Employee Polygraph Protection Act prohibits most private employers from using lie detector tests either for pre-employment screening or during the course of employment. EPPA covers the following:
Prohibitions
Exemptions
Examinee Rights
Enforcement

For additional information, the OneSupport Human Resource Team is available to partner with their employees at any time.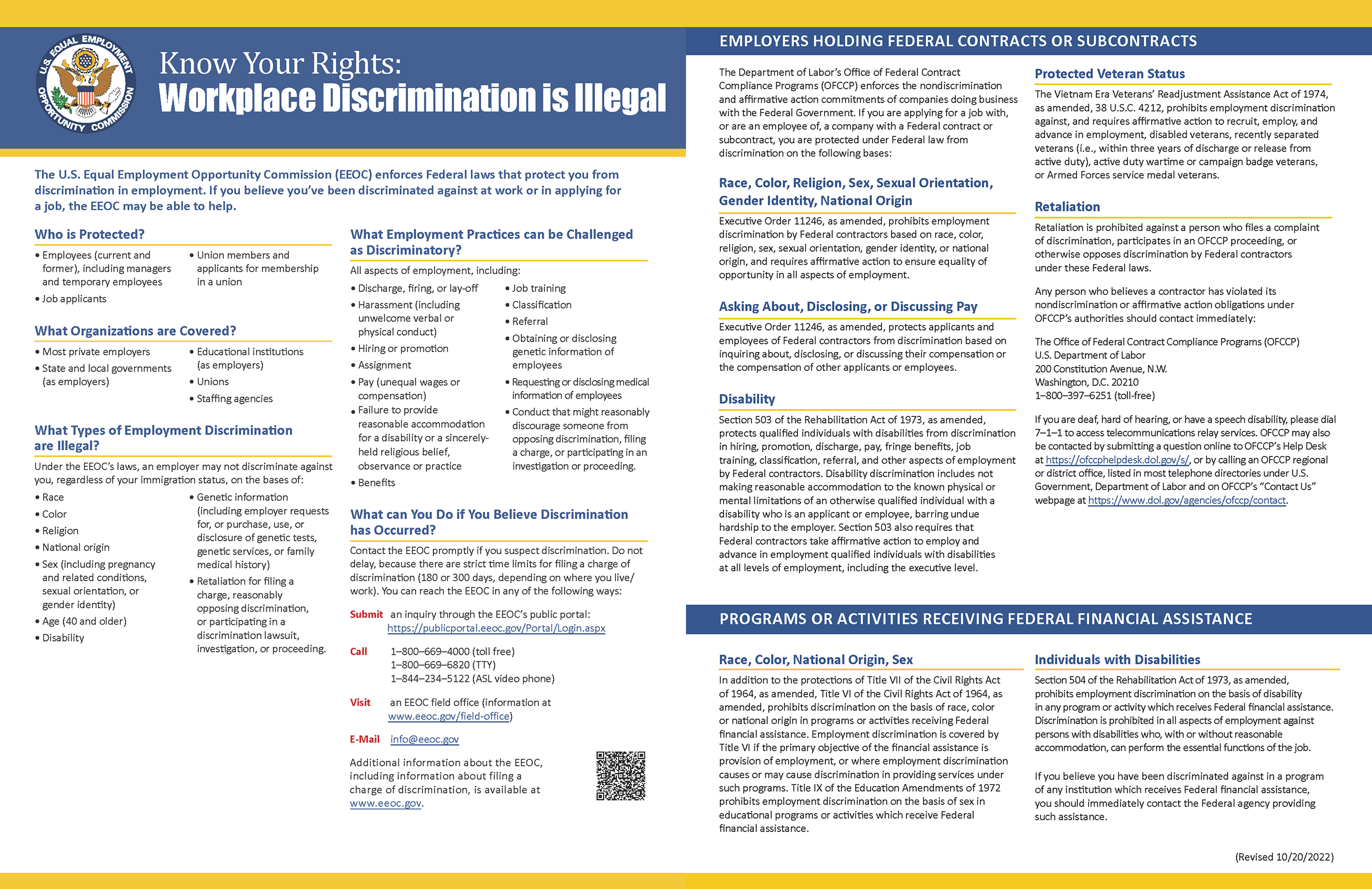 EEO
The Equal Opportunity Employment Commission enforces Federal laws that protect you from discrimination in employment. The OneSupport Human Resource Team can assist you at any time in understanding the laws that ensure your protection in all areas of equal opportunity.
Who is protected?
What organizations are covered?
What types of employment discrimination are illegal?
Employment practices that can be challenged as illegal?
What to do if you believe discrimination has occurred?
Asking about, disclosing, or discussing pay
Disability
Protected Veteran Status
Retaliation 350 Barnes Drive
San Marcos, TX 78666
(800) 580-3355
info@onesupport.com

© 2023 OneSupport, Inc.  All Rights Reserved.
BPO & Contact Center Operations
OneConnect Platform & Infrastructure
Business Continuity & Disaster Recovery
Staffing & Training Supplementation