Breaking The Temp Cycle – The Strategic Argument for Outsourcing vs. Temporary Staff Augmentation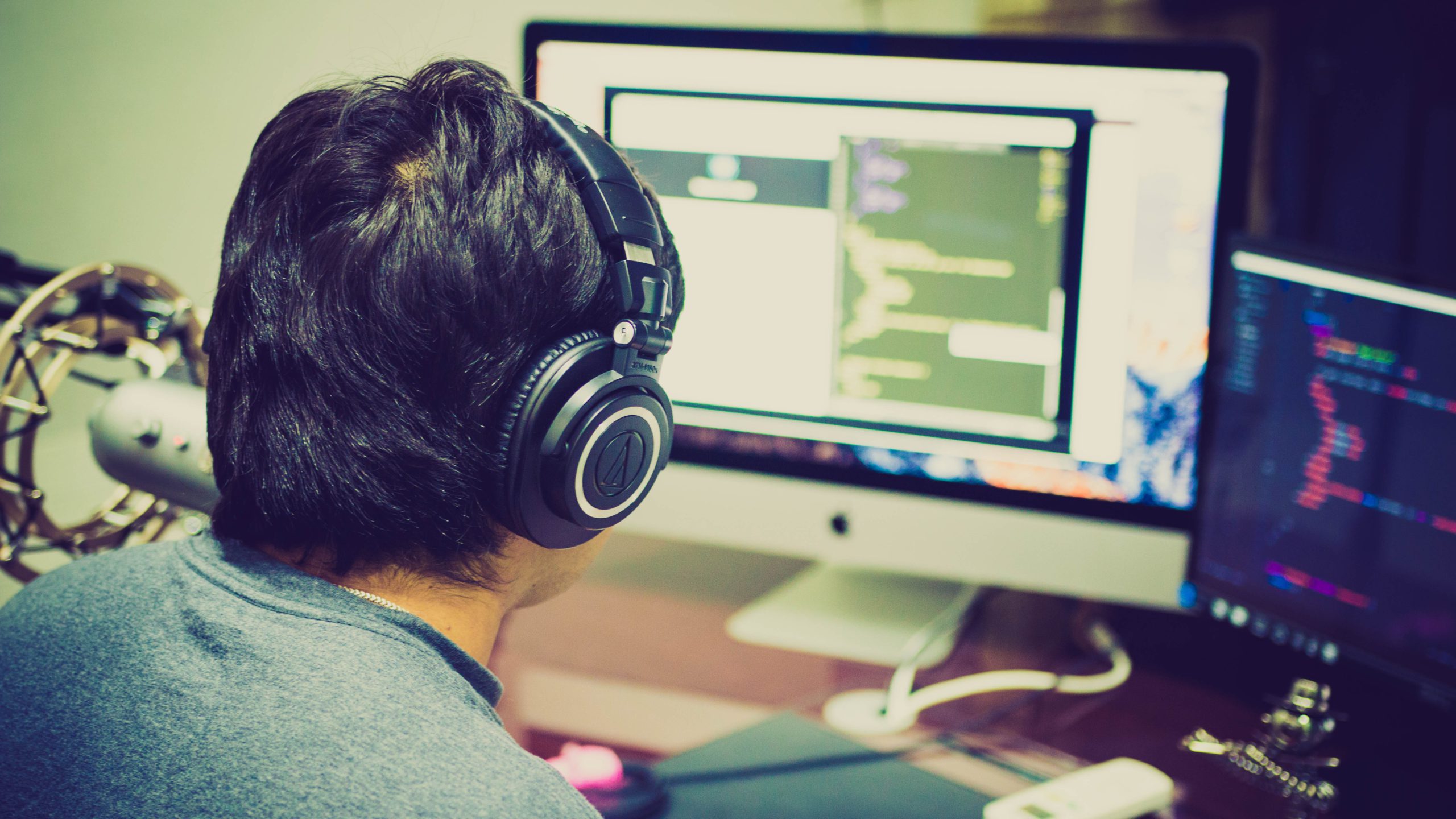 Executive Summary:
Seasonal volume fluctuations present a familiar challenge for many types of businesses, including those that utilize contact center-based customer care representatives to help meet additional demand. Oftentimes, leaders choose to hire temporary employees to supplement their internal customer care teams during high season, but this choice creates a "Temp Cycle" that brings with it numerous costs, knowledge retention, and efficiency challenges that can have a significant strategic impact on the business.
In this paper, we will discuss how to use outsourcing as an approach to break the Temp Cycle, and the significant advantages that come with shifting to an outsourced partnership strategy.
Defining the "Temp Cycle":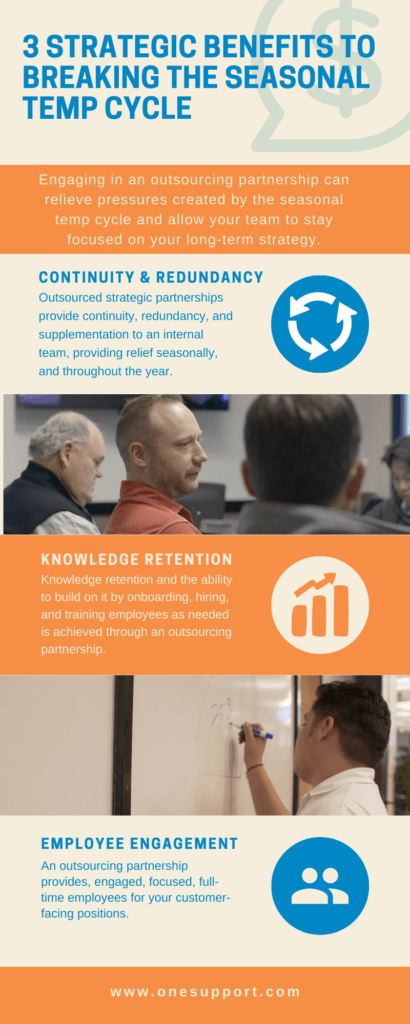 The "Temp Cycle" is created by finding temporary staffing during times of peak seasonal volume demand. Onboarding temporary workers requires a significant investment of time and operational resources by permanent staff and management, only to turn around and release these newly trained supplemental staff from employment once volume declines again in the off season. This cycle offers temporary solutions for recurring strategic challenges, and creates a loop of seasonal "brain drain" within the operation.
Brain Drain – A Major Cost
Key Challenges:
Spending time and resources training new employees

Losing an employee who is trained
One of the largest downsides to hiring temporary staffing is the loss of resources, time, effort, and training, invested at the end of the season. Releasing an employee that is trained and knowledgeable is what we refer to as "brain drain." An employee who is hired to be temporary still requires significant training time and onboarding investment that is cycled out at the end of the season. This presents a temporary solution for a recurring problem.
Training and Onboarding – A Major Investment
Key Challenges:
Training is expensive

Training takes time away from strategic initiatives
The onboarding process for new employees is an expensive cycle that takes time and resources away from daily operations. Removing a veteran employee from daily operations to train a new recruit leaves a void where the veteran was, disrupting productivity and quality. The financial cost of training new hires is a burden that all companies are familiar with. The cost of recruiting, hiring and training is such that many employers rarely see a ROI from the temp cycle. 
Employee Engagement – A Delicate Balance
Key Challenges:
Hiring employees that are not as invested as FTEs

Temp employees identify with, and support the brand less than FTEs
Full Time Employees (FTEs) often feel pride in their position in an organization. This is a feeling that is often missing from temp workers, as they know their help will no longer be needed once volume fluctuation returns to normal. Entrusting a customer-facing position to an employee who may view this job as expendable is extremely risky.

Many temporary employees enter the position with a temporary mindset. Their overall purpose in an organization is a means to an end. Oftentimes their morale is affected by workload, pressure to perform, pay rate, and a lack of benefits. Temporary employees have less motivation to commit to an organization's goals, values, and company culture, as they understand they will be cycled out at the end of the season. 
OneSupport – A Significant Advantage
Key Advantages
Focused and invested employees and tenured management team

Increased workforce flexibility and redundancy during times of increased volume, vacation, holidays, etc.

Built-in business continuity and redundancy programs

Access to advice, innovation, and best practices developed over 27+ years in the contact center industry

Full Stack IT & Software Development team – ability to integrate and streamline systems and processes, and provide better Business Intelligence through quality reporting.
OneSupport is a flexible, dynamic, data-driven, outsourcing partner capable of providing advice, innovation, and best practices developed over 27+ years in the contact center industry. Our experience, knowledge, and logistics are the key differentiating force behind our success. In the ever-changing world of customer support in the digital age, OneSupport has assisted in emergency relief, mergers and acquisitions, business continuity in the face of disaster, and helped to evolve support channels and the brands with which we partner.
One of the biggest financial advantages in breaking the temp cycle and moving to an outsourced partnership is freeing up the capital expenditure and human resources that are spent each season on the onboarding and training process. OneSupport's team is able to train, retrain, maintain and build upon knowledge of products, services, and strategic insights gained each season. This provides redundancy and supplementation to the internal team, creating a reliable ally and partner that allows teams to stay focused on meeting upcoming seasonal demands, and relief from the hiring and training cycle.. By moving to an outsourced partnership with OneSupport, partners gain operational flexibility through persistent access to best practices and knowledge management, the ability to easily  adjust to seasonal volume demands, and relief from after-hours on-call and staffing requirements, all while freeing core support and management resources to tackle the strategic initiatives that drive the business forward.. 
One example of OneSupport's unique ability to deliver for our clients occurred during the Covid-19 crisis in April of 2020. OneSupport was approached by a State Government Agency to provide direct contact center support. Due to the global crisis, the client was experiencing over 1 million unique call inquiries per day, and needed to quickly identify and engage an outsourcing partner to meet this challenge. OneSupport was able to work with the client to mobilize support resources within 10 days of the initial request, and has since grown the operation to over 650 FTEs. As a result of OneSupport's efforts, transfer rates for COVID-19 calls dropped from over 36% to below 11% and relieved the pressure on the client's internal telecenters and the bottleneck caused by the large disparity in headcount between Tier 1 contract call center operations and Tier 2 internal telecenters. 
OneSupport currently employs over 2,000 FTEs, amounting to 83.5% of our workforce, which does not include salary positions and management. Oftentimes FTEs are more invested in their position and the campaign they are working on than seasonal temporary employees, since they know their success is tied directly to the clients' success. By maintaining a staff that consists of a vast majority of FTEs, we are able to provide invested and loyal agents that will identify with, and support brand management.
One of the largest benefits to outsourcing supplemental coverage is increased workforce flexibility and redundancy during times of increased volume, or when internal FTEs take vacation, have holiday time, or other planned or unplanned time off. OneSupport is uniquely equipped to fill the void that is left during these times by having staff available year-round.
Another benefit of outsourcing is the redundancy and business continuity vendors are able to provide during times of disaster and emergency. In 2017, one of OneSupport's clients experienced heavy flooding and catastrophic damage to their five brick and mortar facilities due to the landfall of a category 4 hurricane in South and Central Texas. Due to OneSupport's unique architecture and delivery  model, we were able to secure business continuity for our client by leveraging our multi-node, data center-based infrastructure approach and nationally distributed workforce footprint that ensured the majority of our team was available to work  and unaffected  by the hurricane.
Additionally, OneSupport's Full Stack IT and Software Development team is effective in seamlessly integrating with tools and systems used by our clients. This allows our clients better Business Intelligence through quality reporting by streamlining these systems and processes, and can provide game-changing insights to leaders making strategic decisions to guide the operation.
To find out more about how OneSupport can become your strategic outsourcing partner, visit us at our website.