Find the Perfect Tech Gift for Mom This Mother's Day
Moms do a lot so finding the perfect tech gift to make your mom's life easier is a no-brainer, but how do you know what the perfect tech gift for your mom is? Wow your mom this year by making sure you find her the perfect gif that she can use to simplify her day-to-day. 
Mother's Day Tech Gifts to Keep Mom Healthy
Fitness trackers are a great tech gift for moms because they're good for people who work out religiously but they're also good for those trying to get in shape. Fitness trackers tracker your hardcore workout, your daily steps, and even your water intake. Mom uploads the data to her computer or monitors it via an app on her phone, whichever is easiest for her.
If your mom loves her phone, an Apple Watch or Samsung Galaxy Watch is the perfect tech gift for Mother's Day. Both will allow your mom to track her daily steps, workouts, and water intake. Both also allow mom to check her messages, make and receive phone calls, and much more.
If you're looking for a stand-alone fitness tracker, Fitbit has a complete line of trackers which means there's something for every budget. Fitbits are also customizable, mom can change out the band to coordinate with every occasion. Mom can still track her workouts, steps, and even water intake. Some even have pay apps on them!
Smart Home Assistants Your Mom Will Love
We'd all love to be able to get our mom's an assistant but who could afford that? Give her the next best thing with Mother's Day tech gift of an AI assistant. AI assistants are quickly becoming household staples. By connecting various devices to them you can stream music, control your TV, adjust the temperature in your home, and even lock your doors. What better tech gift for your mom than one that reduces some of her everyday stress?
There are numerous models on the market right now but "big" names are Amazon's Echo with Alexa, Google Home, and the Apple HomePod. Each of these brands has different models at different price points. Choose the right one for your mom based on the mobile device she uses most!
Help Mom Stream Her Favorite Shows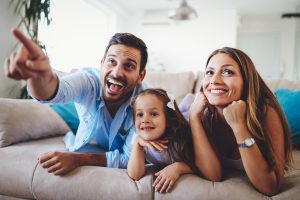 If you're looking for a tech gift for mom that helps her keep up with her favorite shows, consider getting her a streaming device for her TV. Let's face it, smart TVs are expensive but you can still give her the gift of streaming right to her TV. With streaming sticks, mom will be able to watch all of her favorite non-cable services like Netflix, Hulu, Sling, and even HBO.
Streaming sticks are another device with a number of brands from which to choose. Roku offers a line of devices to choose from and different price levels. The Chromecast has been on the market for years. Amazon is also in the game with their Fire Stick.
Help Take Care of the Tech Gifts for Mom
If you want to be sure the new devices you get your mom are supported or want to help her support the devices she already has, turn to OneSupport. OneSupport's 100% U.S. based techs are available 24/7 at 844-818-3415 or via live chat. Get the best possible tech gift for mom by getting her service she can count on.