OneSupport For Business:
MOBILE DEVICE MANAGMENT
OneSupport specialests are well versed in the core elements of MDM, and it's network access control, including the capability to check devices that want access to the network to first verify that the device has not been compromised or jailbroken.
Why Do You Need Mobile Device Management?
Mobile Device Access
OneSupport can provide tools to help protect the use of mobile devices for your corporate environment. With the enforcement of access rules based on device and policy, we are able to lock-down any BYOD concerns.
Data Protection
Businesses and their employees are no longer tethered to their corporate owned and provisioned technology. Data on those devices protected by OneSupport's MDM tools, can be encrypted, with quick options for remote lock and wipe.
Work vs. Personal
OneSupport can provide you with the tools to help solve the challenge of intertwined work and personal data on a BYOD with the creation of an isolated area on the device, to help keep both work and personal data independent from one another.
Visibility & Control
MDM services provided by OneSupport can offer visibility into the devices that are connecting to a network and what resources they are consuming. This will help in controlling possible threats to your business technology.
What is Mobile Device Managment?
Mobile Device Management, or MDM, is a class platform that is used to help organizations manage and control mobile devices used to access business resources. Often, these types of devices are considered Bring Your Own Device often shortened to BYOD.
OneSupport Mobile Device Managment Services
The Technology Advisors at OneSupport are well versed in the core elements of Mobile Device Management, and network access control. We can provide your business with technologies that include the capability to check devices that want access to networks to verify that the device has not been compromised or jailbroken. Additional Mobile Device Management technology can be used to selectively enable or disable native device capabilities, protecting your business network and technology.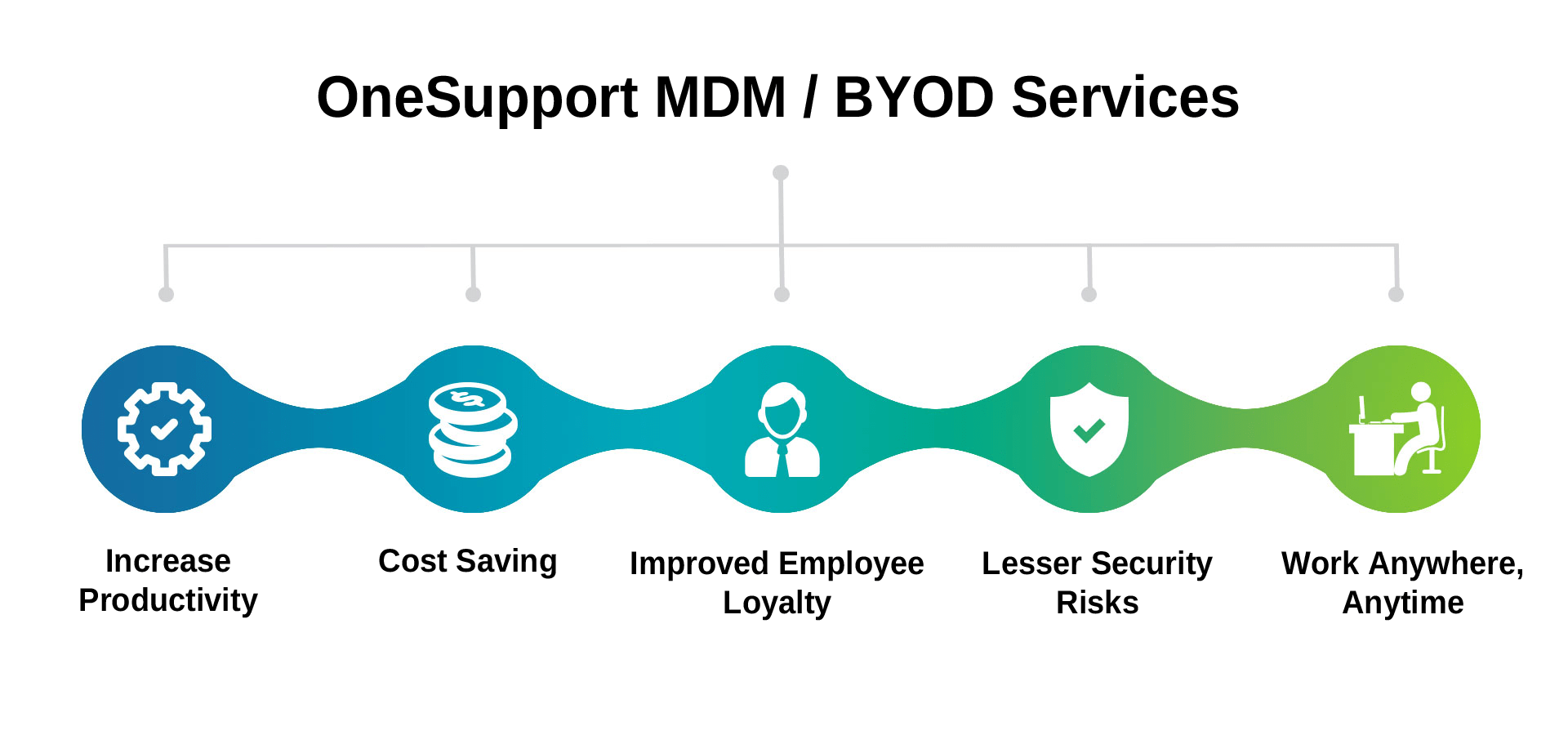 Support, secure, consult and monitor.
We deliver products that work for your business.
We pride ourselves in the service that we provide to customers every day. Our 20+ years of experience has shaped the insight and knowledge that we bring to each engagement. Our team is dedicated to providing the best possible customer experience for our customers. It's our people that truly make OneSupport special. Resolve your IT challenges today with services you can trust.
Contact OneSupport @ (877) 588-7437
Business Sales:  Monday - Friday 8am-8pm Main Headquarters
350 Barnes Drive
San Marcos, TX 78666
(800) 580-3355